My Trucks
85 S-10 Extended cab pickup
I've driven this truck since I got my license in 1990. I've put many miles on it in my travels to Montana, Colorado, South Dakota, and Kansas. I've had a few problems with it in the last year, none of which were terribly major, but I decided it was as good of time as any to make some major changes and give it a face-lift. I parked it around the spring of 2001 and got the Blazer in July which I've been driving since.

The truck moved into the garage at my next apartment, and I immediately began tearing in. So far, I've cleaned up the entire front and rear frame, removed the engine, tranny, drive shaft, steering column, doors, bed, fuel tank, the entire front clip, and both the front and rear suspension components.
The rear suspension components have recently been replaced and the brake drums rebuilt.

This would be the "almost before" picture. I didn't get many pictures of the truck before I started tearing in, and I was painting the bumper, grill, and bezels in this pic, so they're missing.

Let this serve as the "Before pic"


83 S-10 Blazer
I picked this up after a long search for a Blazer in good condition. Erin called me up and told me there was a nice one parked up the block from her, and the price was right. I picked it up, and didn't even get out of the parking lot before I made my first change.
I took the plexiglass glare shield out of the 85 and replaced the pointy one in the 83. Within the week, I had also repainted the dash with the Chrome-illusion paint from dupont...huge improvement!
I had a little trouble getting it to run well this winter, so I've replaced almost everything since I got it. Including:
Brake pads, brake shoes, brake drum springs, oil, Oil filter, air filter, heat return hose, fuel filter, PCV valve, plugs, wires, gas cap, and many vaccuum hoses, along with having the timing reset and codes ran.
Send me an e-mail
The Blazer
Here's the Blazer...there are many more pictures inside...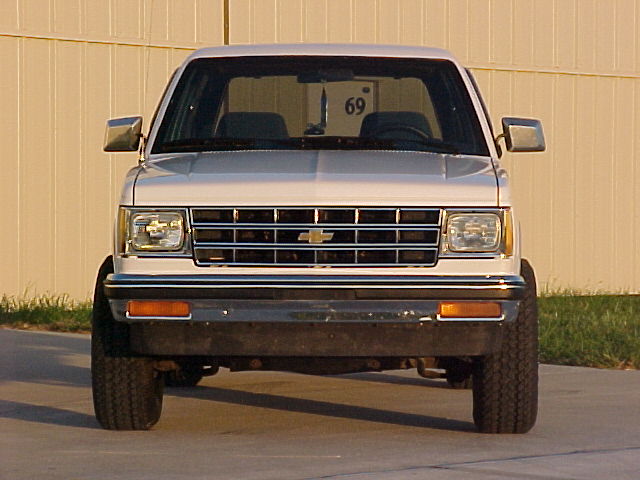 Starting point
Email Me